ISIS-Sammler: Internationale Koalition sieht eigenen Erfolg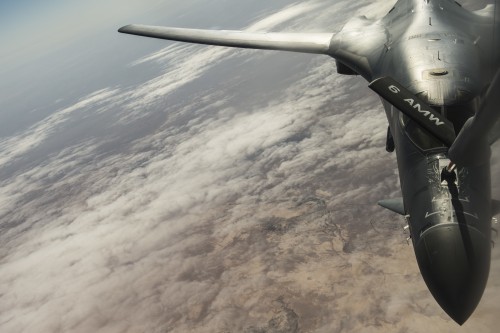 Bevor voraussichtlich am (morgigen) Freitag die Tornados der Luftwaffe ihre ersten Einsätze im Kampf gegen die ISIS-Terrormilizen in Syrien und im Irak fliegen, hier noch schnell ein Übersichtssammler. Mit dem Hinweis auf die (gestrige) Pressekonferenz des Sprechers der US-geführten Operation Inherent Resolve (OIR), seine Kernaussage:
Since May, the Islamic State of Iraq and the Levant has steadily lost ground to Iraqi security forces and Syrian Democratic Forces, the spokesman for Operation Inherent Resolve said today. Briefing the Pentagon press corps via video conference from Baghdad, Army Col. Steve Warren offered battlefield updates and a status report on coalition efforts.
In Iraq, ISIL has lost 20,000 to 22,000 square kilometers, or 40 percent of its taken territory, he said, and in Syria it has lost more than 310 square kilometers, or about 10 percent of its territory.
Coalition members so far have trained and equipped 17,541 Iraqi security forces, Warren said, and the coalition continues to increase the pace and intensity of airstrikes in Iraq and Syria.
"When our airstrikes are coupled with local ground operations, we see ISIL having to react and move around the battlefield. This just makes it easier for us to strike them," he said.
An estimated 2,500 enemy fighters were killed in coalition airstrikes across Iraq and Syria in December, Warren added.
"We believe that ISIL is now in a defensive crouch. … May is when they reached their culminating point of offensive operations. Since then, all they've really managed to do is lose ground," he said.
(ISIL ist das von der US-Administration und dem Militär verwendete Akronym anstelle von ISIS, oder auch IS, oder eben auch Daesh.)
Ein Transkript mit den wörtlichen Äußerungen von Oberst Warren gibt es hier. 
Und die aktuelle OIR-Übersicht vom (heutigen) Donnerstag – auffällig, das – wie auch in den vergangenen Tagen offensichtlich – der Schwerpunkt im Irak liegt. Eben nicht in Syrien. (Übrigens: vom russischen Verteidigungsministerium gibt es zu den Einsätzen in Syrien seit Ende vergangenen Jahres bislang gar keine aktuellen Informationen mehr.)
January 7, 2016
Release # 20160107-01
FOR IMMEDIATE RELEASE
Military Strikes Continue Against ISIL Terrorists in Syria and Iraq
SOUTHWEST ASIA- On Jan. 6, coalition military forces continued to attack ISIL terrorists in Syria and Iraq. In Syria, coalition military forces conducted 14 strikes using fighter, attack, and bomber aircraft. Separately in Iraq, coalition military forces conducted 22 strikes coordinated with and in support of the Government of Iraq using rocket artillery, fighter, fighter-attack, bomber, and remotely piloted aircraft against ISIL targets.
The following is a summary of the strikes conducted against ISIL since the last press release:
Syria
Near Manbij, 14 strikes destroyed 24 ISIL fighting positions, four ISIL buildings, suppressed an ISIL vehicle's movement, and denied ISIL access to terrain.
Iraq
Near Al Baghdadi, two strikes struck an ISIL staging facility and an ISIL weapons cache.
Near Al Huwayjah, one strike destroyed an ISIL bunker.
Near Albu Hayat, one strike destroyed 30 ISIL rockets, an ISIL rocket rail, and an ISIL building.
Near Habbaniyah, two strikes destroyed two ISIL staging areas, two ISIL buildings, an ISIL vehicle, and an ISIL tactical vehicle.
Near Haditha, one strike struck a large ISIL tactical unit and destroyed three ISIL vehicle borne improvised explosive devices (VBIED), an ISIL fighting position, two ISIL vehicles, and wounded an ISIL fighter.
Near Hit, two strikes struck an ISIL VBIED factory.
Near Mosul, four strikes struck an ISIL tactical unit and destroyed 11 ISIL fighting positions, three ISIL bed down locations, an ISIL tunnel, and four ISIL assembly areas.
Near Ramadi, six strikes struck two large ISIL tactical units and destroyed 13 ISIL fighting positions, four ISIL heavy machine guns, four ISIL VBIED staging facilities, an ISIL staging area, three ISIL buildings, three ISIL tactical vehicles, and denied ISIL access to terrain. Near Sinjar, three strikes struck three separate ISIL tactical units and destroyed three ISIL fighting positions.
(Foto: A U.S. Air Force KC-135 Stratotanker from the 340th Expeditionary Air Refueling Squadron refuels a USAF B-1B Lancer from the 34th Expeditionary Bomb Squadron over Iraq in support of Operation Inherent Resolve, Jan. 6, 2016 – U.S. Air Force photo by Staff Sgt. Corey Hook)