Luftangriffe in Syrien: Lagemeldungen 21. Oktober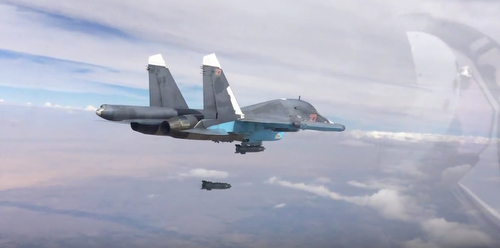 Zum Thema Luftangriffe in Syrien weiter der Archivservice: Die Lagemeldungen des russischen Verteidigungsministeriums und der US-geführten Operation Inherent Resolve vom 21. Oktober.
Die russische Meldung (in der englischen Originalfassung):
In the course of the last 24 hours, aircraft of the Russian air group in the Syrian Arab Republic have performed 46 combat sorties engaging 83 terrorist facilities in the Hama, Idlib, Damascus, Aleppo and Deir ez-Zor provinces.
Near Aleppo, a facility of the Jabhat al-Nusra terrorist grouping with workshop for manufacturing of radio-controlled bombs as well as a depot with explosives were destroyed.
After a pinpoint strike with guided air bombs and further detonation of explosives, the facility and 2 trucks, which had delivered tens of tons of explosives, were destroyed.
Near Khan Shaykhun settlement located in the al-Ghab plain, a large field camp of the Jabhat al-Nusra grouping was detected by the air reconnaissance. An airstrike conducted by a Su-25 attack aircraft eliminated the terrorist object with all its facilities: accommodation and training areas of militants, as well as depots, automobile vehicles.
In the Idlib province, a command-surveillance centre of the ISIS militants located on the Seryatel mountain was uncovered by reconnaissance UAVs. It used to carry out the control over the illegal armed groups at the battlefield as well as fire adjustment for mortar crews of militants. A strike of a Su-24M bomber aircraft hit the target.
Near Jisr al-Shughur (Idlib province), a Su-24M bomber destroyed a hidden ammunition depot of one of the ISIS terrorist group in this region detected by air reconnaissance.
On October 19, the means of radio interception received information concerning the meeting of commanders of illegal armed groups operating near Sarmin (Idlib province).
After additional check of the information through other channels concerning the time and place of the meeting, there was made a decision to make a strike on the meeting place of the militants' commanders.
The meeting place, which was the underground floor of an abandoned building, was put under surveillance of UAVs.
Last night, a concentration of 9 off-road vehicles equipped with large-caliber machine guns was detected in that area.
A Su-34 bomber made a precision strike with a smart bomb KAB-500 destroying the whole object with its contents.
Means of radio reconnaissance intercepted information concerning the start of negotiations between the commanders of the ISIS and the Jabhat an-Nusra on making an alliance for containment of the Syrian governmental troops.
Particular attention should be paid to the information received through several channels concerning the tactics of militants retreating under the strikes of the Syrian governmental troops. Their actions are the evidence of their belonging to terrorist groupings. Before leaving the positions, they are laying minefields and planting remotely controlled mines in abandoned residential buildings and objects of social infrastructure.
The significant part of these mines are carefully hidden and equipped with countdown timers, which will detonate after a certain period of time that sometimes constitutes several weeks.
Such tactics will allow to make terrorist attacks in the areas liberated by the governmental troops after the return of the civil population and the start of reconstruction works.
After the combat task performance, all the Russian aircraft successfully returned to the Hmeymim airbase.
Die Meldung der Operation Inherent Resolve:
October 21, 2015
Release # 20151021-01
FOR IMMEDIATE RELEASE
Military Strikes Continue Against ISIL Terrorists in Syria and Iraq
SOUTHWEST ASIA- On Oct. 20, coalition military forces continued to attack ISIL terrorists in Syria and Iraq. In Syria, coalition military forces conducted four strikes using attack and fighter aircraft. Separately in Iraq, coalition military forces conducted 14 strikes coordinated with and in support of the Government of Iraq using bomber, fighter and attack aircraft against ISIL targets.
The following is a summary of the strikes conducted against ISIL since the last press release:
Syria
• Near Manbij, four strikes struck four separate ISIL tactical units and destroyed two ISIL structures, two ISIL fighting positions, an ISIL vehicle, and an ISIL resupply point.
Iraq
• Near Kisik, six strikes struck an ISIL vehicle borne improvised explosive device (VBIED) facility and destroyed five separate ISIL staging areas.
• Near Ramadi, two strikes struck an ISIL tactical unit and destroyed an ISIL command and control node, an ISIL IED, and denied ISIL access to terrain.
• Near Sinjar, four strikes struck two separate ISIL tactical units and destroyed 14 ISIL fighting positions, an ISIL light machine gun, and an ISIL heavy machine gun.
• Near Sultan Abdallah, one strike suppressed ISIL mortar fire.
• Near Tal Afar, one strike destroyed 16 ISIL fighting positions.
Strike assessments are based on initial reports. All aircraft returned to base safely.
The strikes were conducted as part of Operation Inherent Resolve, the operation to eliminate the ISIL terrorist group and the threat they pose to Iraq, Syria, and the wider international community.
The destruction of ISIL targets in Syria and Iraq further limits the group's ability to project terror and conduct operations. Coalition nations which have conducted strikes in Iraq include Australia, Belgium, Canada, Denmark, France, Jordan, Netherlands, United Kingdom, and the United States. Coalition nations which have conducted strikes in Syria include Australia, Bahrain, Canada, France, Jordan, Saudi Arabia, Turkey, United Arab Emirates, and the U.S.
Zur Ergänzung eine Analyse von Reuters:
Almost 80 percent of Russia's strikes in Syria don't target Islamic State, analysis shows: https://t.co/pZdx1AppyW pic.twitter.com/cGQ70eXu8u

— Reuters Top News (@Reuters) 21. Oktober 2015
Almost 80 percent of Russia's declared targets in Syria have been in areas not held by Islamic State, a Reuters analysis of Russian Defence Ministry data shows, undermining Moscow's assertions that its aim is to defeat the group.
The majority of strikes, according to the analysis, have instead been in areas held by other groups opposed to Syrian President Bashar al-Assad, which include al Qaeda offshoots but also fighters backed by Washington and its allies.
Defence ministry statements of targets hit by the Russian Air Force and an online archive of Russian military maps show Russia has hit 64 named locations since President Vladimir Putin ordered the first round of air strikes three weeks ago.
(Foto: Screenshot aus einem Video des russischen Verteidigungsministeriums; Su-34 beim Abwurf von KAB-500S über Raqqa/Syrien am 9.10.2015)