Ministerium favorisiert Eurofighter-Weiterentwicklung über F-35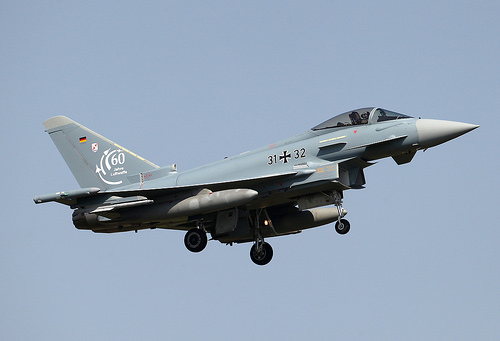 Im deutlichen Gegensatz zu Luftwaffeninspekteur Karl Müllner bevorzugt das Verteidigungsministerium für die Ablösung der Tornado-Kampfjets der Luftwaffe eine Weiterentwicklung des ebenfalls von der Bundeswehr geflogenen Typen Eurofighter vor der Beschaffung eines US-Flugzeugmusters. Das berichtet die Kollegin Sabine Siebold von Reuters unter Berufung auf die Antwort des Ministeriums auf eine  Grünen-Anfrage :
Das Ministerium prüfe derzeit unterschiedliche Optionen für die Ablösung des Tornados ab 2025, heißt es in einem Schreiben von Verteidigungsstaatssekretär Ralf Brauksiepe an die Grünen-Abgeordnete Franziska Brantner, das Reuters am Montag vorlag. weiterlesen
Probleme mit neuem Rüstungsgerät? Bei den Amis auch.
Wer glaubt, die Deutschen (und die Europäer) seien alleine mit ihren Problemen bei neuem Rüstungs-Großgerät wie dem EuroHawk oder dem A400M und auf der anderen Seite des Atlantiks sei alles gut…. sollte mal diese Geschichte vom Kollegen David Axe lesen:
F'd: How the U.S. and Its Allies Got Stuck with the World's Worst New Warplane
Und er haut schon ganz schön drauf:
The F-35 Joint Strike Fighter — a do-it-all strike jet being designed by Lockheed Martin to evade enemy radars, bomb ground targets and shoot down rival fighters — is as troubled as ever. Any recent tidbits of apparent good news can't alter a fundamental flaw in the plane's design with roots going back decades.
Owing to heavy design compromises foisted on the plane mostly by the Marine Corps, the F-35 is an inferior combatant, seriously outclassed by even older Russian and Chinese jets that can fly faster and farther and maneuver better. In a fast-moving aerial battle, the JSF "is a dog … overweight and underpowered," according to Winslow Wheeler, director of the Straus Military Reform Project at the Project on Government Oversight in Washington, D.C.
And future enemy planes, designed strictly with air combat in mind, could prove even deadlier to the compromised JSF.
Interessante Lektüre. Für die Deutschen eher akademisch, für andereEuropäer, wie die Niederländer, weit weniger.
(Foto: F-35A Lightning II joint strike fighters from the 33rd Fighter Wing at Eglin Air Force Base, Fla., perform an aerial refueling mission with a KC-135 Stratotanker from the 336th Air Refueling Squadron at March Air Reserve Base, Calif., May 14, 2013, off the coast of Northwest Florida. The 33rd FW is a joint graduate flying and maintenance training wing that trains Airmen, Marines, Sailors and international partner operators and maintainers of the F-35 Lightning II.  – U.S. Air Force photo by Master Sgt. Donald R. Allen via Flickr)