Luftangriffe in Syrien: Lagemeldungen 20. Oktober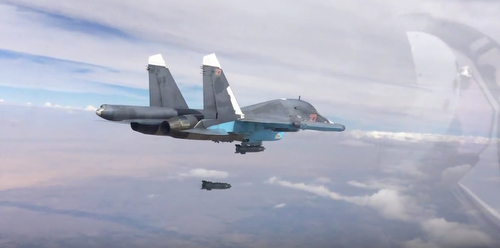 Russland wie auch die US-geführte Operation Inherent Resolve setzen ihre Luftangriffe in Syrien fort – und kommen sich dabei bisweilen gefährlich nahe.
Die Lagemeldungen vom heutigen Dienstag:
Die Mitteilung des russischen Verteidigungsministeriums (in der englischen Originalfassung):
In the course of the last 24 hours, the Russian aviation group in the Syrian Arab Republic has continued performing strikes against facilities of ISIS and Jabhat al-Nusra.
The Russian pilots carried out 55 combat sorties from the Hmeymim airbase engaging 60 targets in the Hama, Idlib, Lattakia, Damascus, Aleppo and Deir ez-Zor provinces.
Near Ziara (Idlib province), air reconnaissance means uncovered a terrorists' hardware concentration area. After additional reconnaissance check conducted with the use of UAVs, the Command of the Russian aviation group made a decision to destroy the target.
Three infantry fighting vehicles and six SUVs equipped with large-caliber machine guns were eliminated by the strike.
Near Qastun (Idlib province), a large base of illegal armed groups with a command centre and a camouflaged ammunition depot was destroyed. The strike of a Su-24M with a high-explosive bomb caused detonation of munitions, which completely destroyed the object.
Near Hatla (Deir ez-Zor province), the Russian aviation destroyed a mini-plant manufacturing explosive devices and unguided rockets. A pinpoint strike of a Su-34 bomber eliminated the plant.
Also in Deir ez-Zor province, terrorists' command and communication centres, which had been used to coordinate five armed groups in the region, were destroyed. The target was located in buildings of post office, which had been captured by the terrorists. The object was eliminated with a guided bomb dropped from a Su-34 bomber.
During the last 24 hours, the strikes of the Russian aviation resulted in elimination of the following targets:
19 command centres of illegal armed groups;
2 depots with ammunition;
a plant used for production of munitions and explosives;
30 firing positions and concentrations of military hardware;
9 underground fortified facilities.
After combat task performance, all the Russian aircraft have returned to the Hmeymim airbase. 
Die Meldung der Operation Inherent Resolve:October 20, 2015
Release # 20151020-01
FOR IMMEDIATE RELEASE
Military Strikes Continue Against ISIL Terrorists in Syria and Iraq
SOUTHWEST ASIA- On Oct. 19, coalition military forces continued to attack ISIL terrorists in Syria and Iraq. In Syria, coalition military forces conducted two strike using attack and fighter aircraft. Separately in Iraq, coalition military forces conducted 15 strikes coordinated with and in support of the Government of Iraq using bomber, fighter, attack, ground-attack, and remotely piloted aircraft against ISIL targets.
The following is a summary of the strikes conducted against ISIL since the last press release:
Syria
• Near Ar Raqqah, one strike struck an ISIL headquarters building.
• Near Tal Jibbin, one strike destroyed an ISIL mortar system.
Iraq
• Near Kisik, two strikes struck an ISIL tactical unit and destroyed two ISIL heavy machine guns, an ISIL staging area, and two ISIL fighting positions.
• Near Makhmur, one strike struck an ISIL tactical unit and destroyed an ISIL trench.
• Near Mosul, one strike suppressed an ISIL rocket position.
• Near Ramadi, two strikes struck an ISIL tactical unit and destroyed two ISIL buildings, an ISIL sniper position, and denied ISIL access to terrain.
• Near Sinjar, eight strikes struck three separate ISIL tactical units and destroyed 26 ISIL fighting positions, five ISIL vehicles, 10 ISIL assembly areas, and three ISIL command and control nodes.
• Near Tal Afar, one strike destroyed an ISIL vehicle.
Strike assessments are based on initial reports. All aircraft returned to base safely.
The strikes were conducted as part of Operation Inherent Resolve, the operation to eliminate the ISIL terrorist group and the threat they pose to Iraq, Syria, and the wider international community.
The destruction of ISIL targets in Syria and Iraq further limits the group's ability to project terror and conduct operations. Coalition nations which have conducted strikes in Iraq include Australia, Canada, France, Jordan, Netherlands, United Kingdom, and the United States. Coalition nations which have conducted strikes in Syria include Australia, Bahrain, Canada, France, Jordan, Saudi Arabia, Turkey, United Arab Emirates, and the U.S.
(Foto: Screenshot aus einem Video des russischen Verteidigungsministeriums; Su-34 beim Abwurf von KAB-500S über Raqqa/Syrien am 9.10.2015)