While waiting for the new figures, find the old ISAF statistics here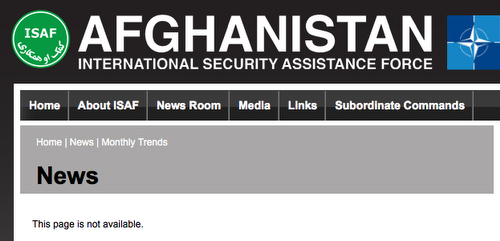 Over the last year, ISAF had provided each month statistics on security related incidents in Afghanistan, called Monthly Trends. In January this year, these statistics disappeared from the ISAF website, leaving no explanation but just a This page is not available. note (see above). And yesterday, the AP reported that there indeed had been a reason to pull the metrics from ISAF's internet presence – in a nutshell: the figures were wrong. Taliban attacks not down after all, the wire story read, quoting a spokesman for the military alliance that the advertised 7 per cent decline was, uhm, way beyond the mark: In fact there was no decline at all, officials said.
The main reason for the wrong figures, obvoiusly, was the wrong integration of green reporting, not correctly counting the attacks on Afghan National Security Forces while attacks on ISAF forces went down. (For that reason, the German armed forces had to correct their statistics in January, admitting that instead of a decline the numbers had been the same.)
Now there's some truth to the ISAF claim that these metrics do not reflect the reality of what has changed in Afghanistan and many other factors beyond numbers of Enemy Initiated Attacks (EIA) or exploded IEDs have to be taken into account. On the other hand, the decline in attacks came handy to illustrate progress. Or so ISAF – and some of the  troop contributing nations – said.
While waiting for ISAF to come up with new statistics, I thought it might be helpful to have the old statistics at hand, those that had been pulled from the ISAF website. And checking my computer, I found that I had indeed stored some – although not all – of these.
So here they are, the ISAF Monthly Trends as published until some time in January 2012:
ISAF_Monthly_Trends_August2012
ISAF_Monthly_Trends_October2012
ISAF_Monthly_Trends_November2012