A fighter pilot, well versed with media and politics: Meet the new ISAF spokesperson
German brigadier general Günter Katz took over as ISAF spokesperson today – the third German in a row to take this position, but the first German Air Force officer serving as a spokesman for the international forces in Kabul. He's off to a bumpy start, with the much noted Taliban attack on a hotel outside the Afghan capital, and he's off to a tough year with troop drawdowns and the logistic nightmare of transporting thousands of tons of military material back to the nations.
Now, Katz is used to the fast lane – the 49-year old has spent most of his service years as a fighter pilot, flying the ageing F4-F Phantom as well as the Eurofighter Typhoon.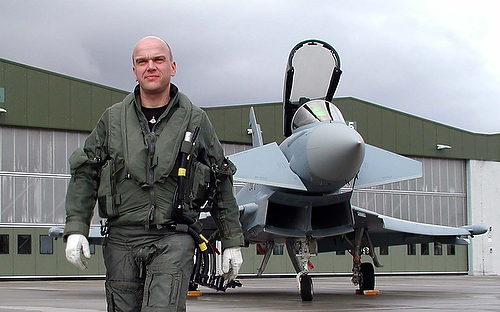 Günter Katz in front of an Eurofighter Typhoon with the Jagdgeschwader (fighter squadron) 73 "Steinhoff" in Laage, Northern Germany (2006 file photo courtesy JG73)
After joining the Bundeswehr, the German Armed Forces, in 1982, Katz took up pilot training before flying the Phantom for ten years with the Luftwaffe's Jagdgeschwader 71, named Richthofen after the WWI flying ace. Following general staff training and two years on the staff of NATOS's HQ AIRNORTH, he had his first foray into the Ministry of Defence, working on politico-military affairs.
In the Ministry, Katz joined the media staff in 2003, amidst the sometimes controversial introduction of the Eurofighter Typhoon into the German Air Force, having to answer critical questions on the new weapons system. That experience came handy in 2004, when Katz took over as Kommodore (squadron leader wing commander) of Jagdgeschwader 73, the unit responsible for the Typhoon introduction. In 2007, he returned to the Ministry, focusing on politico-military affairs again.
Katz was born in Wiesbaden, Germany and is married with two sons. During his deployment he will turn 50 in late August.