Angela Merkel's government jet now flying in Iran
A former German government jet used by German chancellors and ministers for the last 20 years is now flying in Iran after it had been taken out of air force service and sold by the German government, according to an airline industry website. The Airbus 310, former Luftwaffe tail no. 22+10, had been Chancellor Angela Merkel's means of transport until the Luftwaffe upgraded its fleet of government jets this year.
The website skyliner-aviation.de which is monitoring sales of airliners around the world mentioned in its list of plane transfers on Nov. 20 the delivery of the plane to Tehran:
| | | | | | | | |
| --- | --- | --- | --- | --- | --- | --- | --- |
| Airbus A310 | -304 | 499 | | EP-VIP | Mahan Air | delivery 18nov11 KBP-THR | ex 10+22 |
To break down the code: According to this list, an Airbus A310, former registration 10+22, had been delivered from Borispol Airport (KBP) in Ukraine to Mehrabad Airport (THR) in the Iranian capital Tehran. The plane now is operated by Mahan Air, an Iranian airline that insists that it's a private airline.
I'm no aviation expert, but I'd assume a plane with VIP interior and registered as EP-VIP won't be used for regular commuter service…
The plane had been parked for months in the Ukraine after it had been sold.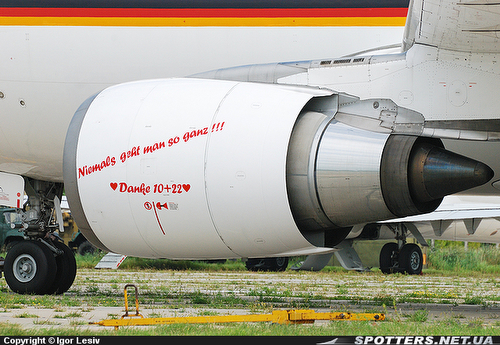 (Photo courtesy Igor Lesiv/spotters.net.ua)
The service in Iran adds a last irony to the history of this Airbus. Originally, the plane had been ordered by the East German government only a short time before the Berlin Wall came down in late 1989. After German unification in 1990 it was put into service with the – former West German, then German – Luftwaffe as a government jet. Flying in Iran, a country which officially faces sanctions by the West, ist just the latest twist…