Ukraine/Russland/NATO – der Sammler am 31. Dezember 2022 (Nachtrag: Selenskyj, Putin)
Das Jahr 2022 geht zu Ende, der russische Angriffskrieg gegen die Ukraine nicht. Und wie es sich weiter entwickeln kann, darauf haben Russlands Präsident Wladimir Putin und der ukrainische Präsident Wolodymyr Selenskyj in ihren Neujahrsansprachen (s. Nachtrag unten) Hinweise gegeben. Der Sammler am 31. Dezember 2022:
• Der letzte Tag des Kriegsjahres 2022 hat für die Ukraine mit einer erneuten Welle russischer Luftangriffe begonnen. Wie schon im britischen Intelligence Update (s. unten) vermutet, wichen die russischen Streitkräfte vom bisherigen Muster der großen Luftangriffswellen im Abstand von sieben bis zehn Tagen ab, offensichtlich auch symbolisch angesichts des Jahreswechsels.
Update: Nach Angaben des ukrainischen Oberkommandierenden Walerij Saluschnyj wurden allen 20 Marschflugköper auf die Ukraine abgefeuert, von denen zwölf abgeschossen worden seien:
Mehr dazu auch im Abendbriefing des ukrainischen Generalstabs (s. unten). Auch der ukrainische Präsident Wolodymyr Selenskyj ging in seiner regelmäßigen Videoansprache auf die Angriffe ein:
December 31st… Today, this Russian missile attack is not the end of the year, no matter how much the terrorists want it. It's the outcome of Russia's fate.
The terrorist state will not be forgiven. And those who give orders for such strikes, and those who carry them out, will not receive a pardon. To put it mildly.Several missile attack waves on New Year's Day. Missiles against people. It's against the people.
NONhumans did it, NONhumans will lose. And you and I know it. Terrorists cannot change it.
At Easter, they made such attacks, at Christmas, at New Year… They call themselves Christians, they are very proud of their Orthodoxy. But they are following the devil. They support him and are together with him.
And I'll tell you about it in Russian.
All this war that you are waging, you are Russia, it is not the war with NATO, as your propagandists lie. It is not for something historical. It's for one person to remain in power until the end of his life. And what will be with all of you, citizens of Russia, does not concern him.
Your leader wants to show that he has the troops behind him and that he is ahead. But he is just hiding. He hides behind the troops, behind missiles, behind the walls of his residences and palaces.
• Selenskyj hatte sich am Morgen auf Deutsch für die Unterstützung seines Landes durch Deutschland bedankt: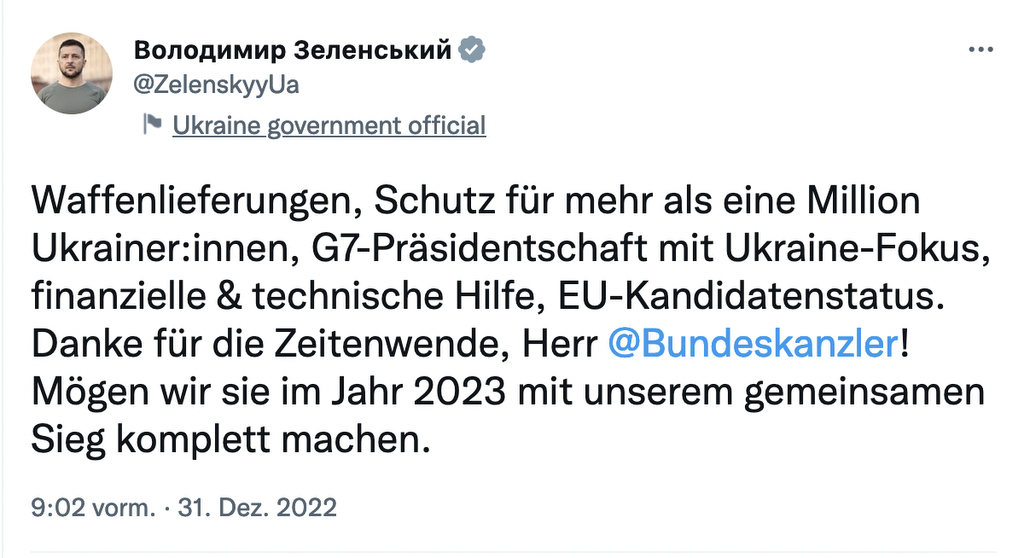 • Der ukrainische Verteidigungsminister Oleksii Resnikow hatte in einer Videoansprache am (gestrigen) Freitagabend gezielt russische Männer angesprochen: Nach ukrainischen Informationen stehe in Russland eine neue Einberufungswelle bevor, zudem die Möglichkeit, dass das Kriegsrecht ausgerufen und Grenzen geschlossen würden. Seine Ansprache (mit englischen Untertiteln):
• Das britische Intel Update:
On 29 December 2022, Russian forces launched another wave of long-range strikes across Ukraine, once again primarily targeting the power distribution network.
Since October, Russia has sustained a general pattern of conducting an intensive wave of strikes every seven to ten days.
Russia is almost certainly following this approach in an attempt to overwhelm Ukrainian air defences.
However, there is a realistic possibility that Russia will break this pattern to strike again in the coming days in an effort to undermine the morale of the Ukrainian population over the new year holiday period.
• Das Morgenbriefing des ukrainischen Generalstabs:
Operational update regarding the russian invasion as of 06.00, on December 31, 2022
The three hundred eleventh (310) day of the heroic resistance of the Ukrainian people to a russian military large-scale invasion continues.
During the past day, the enemy launched 5 missile and 29 air strikes, 26 enemy airstrikes hit civilian infrastructure. In particular, the invaders used 10 Shahed-136 unmanned aerial vehicles, but all of them were shot down. In addition, the enemy carried out 80 MLRS attacks from rocket salvo systems, civilian settlements were also affected.
There is a danger of continued air and missile attacks on the entire territory of Ukraine.
The enemy continues to conduct offensive operations in the Lyman and Bakhmut areas and is trying to improve the tactical position in the Kupiansk and Avdiivka areas.
Over the past day, our soldiers repelled the attacks of the occupiers in the areas of the settlements of Stelmakhivka, Nevske, Chervonopopivka and Bilohorivka in the Luhansk oblast and Soledar, Bilohorivka, Bakhmutske, Pidhorodne, Bakhmut, Klishchiivka, New York, Krasnohorivka, Kamianka, Avdiivka and Maryinka in the Donetsk oblast.
The situation remains stable in the Volyn, Polissya, Siverskyi and Slobozhanskyi directions, the formation of enemy offensive groups has not been detected.
In the Siverskyi and Slobozhanskyi directions, the areas of Orlykivka, Semenivka, Zaliznyi Mist, Buda-Vorobiivska settlements of Chernihiv oblast were subjected to artillery and mortar shelling; Khodyne, Atynske, Zapsilya, Velyka Rybytsia, Pokrovka, Ryasne, Popivka in Sumy oblast, as well as Hlyboke, Morokhovets, Zelene, Ternova, Starytsa, Gatyshche, Vovchansk, Bochkove, Nesterne, Vilkhuvatka, Chuhunivka and Zarubinka in Kharkiv oblast.
In the Kupyansk direction, the areas of Kamyanka, Novomlynsk, Dvorichna, Vilshana, Kupyansk, Orlyanka, Kurylivka, Kotlyarivka and Tabaivka settlements of Kharkiv oblast and Novoselivske and Stelmakhivka in Luhansk oblast were shelled.
In the Lyman direction, Ploschanka, Nevske, and Dibrova in the Luhansk oblast, as well as Chervonopopivka, Yampolivka, and Torske in Donetsk oblast came under fire from the occupiers.
In the direction of Bakhmut, the enemy fired from tanks, mortars, barrel and jet artillery in the areas of the settlements of Spirne, Berestove, Bilohorivka, Soledar, Bakhmutske, Pidhorodne, Yahidne, Bakhmut, Kostyantynivka, Klishchiivka, Andriivka, Bila Hora, Kurdyumivka, Diliivka, Druzhba, Zalizne, Mayorsk and New York of the Donetsk oblast.
Vesele, Avdiivka, Nevelske, Krasnohorivka, Heorgiivka, Maryinka and Novomykhailivka were hit by fire in the Avdiivka direction.
In the direction of Novopavlivsk, the enemy shelled Vuhledar, Prechystivka, Zolota Nyva, Velyka Novosilka, and Vremivka of the Donetsk oblast.
In the Zaporizhzhia direction, enemy fire was recorded in the areas of Temyrivka, Poltavka, Hulyaipole, Dorozhnyanka, Mala Tokmachka, Novodanylivka, Novoandriivka, Mali Shcherbaky, Stepove, Kamianske and Stepnohirsk in Zaporizhzhia and Nikopol and Primiske in the Dnipropetrovsk oblast.
In the Kherson direction, the enemy continues mortar and artillery shelling of populated areas along the right bank of the Dnipro River. In particular, the civil infrastructure of Kachkarivka, Naddnipryanske, Antonivka and Kherson was affected.
According to available information, military commissariats in the temporarily occupied territory of the Republic of Crimea have compiled lists of persons subject to conscription for mobilization in January 2023.
The enemy continues to suffer losses. Fire damage to the occupiers was confirmed on December 29 of this year. So, around 200 invaders were eliminated in the area of Fedorivka, Kakhovsky district, Kherson oblast, information about the wounded is being clarified. In addition, in the vicinity of Polohy and Velyka Bilozerka of the Zaporizhzhia oblast, the enemy lost 115 servicemen wounded, 5 units of military equipment of various types, an anti-aircraft missile complex and an ammunition depot were destroyed.
Aviation of the Defense Forces made 10 strikes on areas of concentration of the enemy, as well as 3 – on the positions of anti-aircraft missile systems.
An enemy reconnaissance UAV of the "Orlan-10" type was shot down.
Units of missile forces and artillery of the Defense Forces hit the control post, 7 areas of concentration of enemy manpower and military equipment, 5 ammunition depots, as well as 2 radar stations of the invaders.
• Das Briefing des russischen Verteidigungsministeriums:
Russian Defence Ministry report on the progress of the special military operation in Ukraine (31 December 2022)
The Armed Forces of the Russian Federation continue the special military operation.
In Kupyansk direction, attacks launched by artillery and Army Aviation have resulted in the neutralisation of 3 company tactical groups of the Armed Forces of Ukraine (AFU) near Timkovka, Kislovka, and Novosyolovskoye (Kharkov region).
Over 50 Ukrainian personnel, 2 armoured fighting vehicles, and 3 pickups have been eliminated.
In Krasniy Liman direction, complex attacks launched at the AFU units near Serebryanka (Lugansk People's Republic) have resulted in causing irretrievable losses of up to 140 Ukrainian personnel, 5 tanks, 7 armoured fighting vehicles, and 4 pickups.
In Donetsk direction, Russian forces continued their offensive operations by launching attacks, involving Operational-Tactical and Army aviation, artillery, and heavy flamethrower systems, at AFU manpower and hardware concentration areas.
Over 80 Ukrainian personnel, 2 armoured personnel carriers, 4 armoured motor vehicles, and 3 pickups have been eliminated.
In South Donetsk direction, successful offensive operations conducted by Russian forces have resulted in the liberation of Dorozhnyanka (Zaporozhye region).
Up to 50 personnel, 3 infantry fighting vehicles, 2 armoured fighting vehicles, and 5 pickups have been eliminated.
Attacks launched by high-precision armament of Russian Aerospace Forces have resulted in the neutralisation of 3 provisional bases of foreign mercenaries near Krasniy Liman and Chervonaya Dibrova (Donetsk People's Republic).
Missile Troops and Artillery of the Russian groups of forces have neutralised 75 AFU artillery units at their firing positions, manpower and military equipment at 92 areas.
1 radar for Ukrainian S-300 air defence missile system has been detected and destroyed near Fyodorovka (Donetsk People's Republic).
5 U.S.-manufactured AN/TPQ-50 counterbattery warfare radars have been destroyed near Chasov Yar, Artyomovsk, Avdeyevka, and Vesyoloye (Donetsk People's Republic).
2 AFU ordnance depots have been destroyed near Bogatyr (Donetsk People's Republic) and Kamenskoye (Zaporozhye region).
Within the counterbattery warfare, 1 launching ramp of HIMARS multiple-launch rocket system (MLRS), 2 fighting vehicles for Grad MLRS, as well as 1 2S1 Gvozdika self-propelled howitzer, that had shelled residential areas of Donetsk and other settlements of the Donetsk People's Republic, have been destroyed near Konstantinovka.
4 U.S.-manufactured M-777 artillery systems have been destroyed at their firing positions near Seversk, Stupochki, and Fyodorovka (Donetsk People's Republic).
One Czech-manufactured Dana self-propelled howitzer has been destroyed near Serebryanka (Lugansk People's Republic).
Fighter Aviation of Russian Aerospace Forces has shot down 2 Mi-8 helicopters of Ukrainian Air Force near Novovasilyevka and Novoekonomicheskoye (Donetsk People's Republic).
Air defence facilities have shot down 8 Ukrainian unmanned aerial vehicles near Baranikovka (Lugansk People's Republic), Kirillovka, Volnoye, Chervonaya Dibrova, Volodino (Donetsk People's Republic), Vasilyevka (Zaporozhye region), and Konstantinovka (Kherson region).
In total, 355 airplanes and 198 helicopters, 2,764 unmanned aerial vehicles, 399 air defence missile systems, 7,338 tanks and other armoured combat vehicles, 957 combat vehicles equipped with MRLS, 3,752 field artillery cannons and mortars, as well as 7,846 units of special military equipment have been destroyed during the special military operation.
• Das Abendbriefing des ukrainischen Generalstabs:
Operational update regarding the russian invasion as of 18.00, on December 31, 2022
he three hundred eleventh (311) day of the heroic resistance of the Ukrainian people to a russian military large-scale invasion continues.
In the period from 12:40 to 14:30, the enemy launched a massive rocket attack. According to preliminary data, a total of about 20 missile launches were carried out. Several of the missiles did not reach Ukraine and fell on the territory of the russian federation (information is being clarified). The forces and means of air defense of the Air Force destroyed 12 cruise missiles in Kyiv, Zhytomyr and Khmelnytskyi oblasts. Also, in the Kyiv oblast, an enemy UAV "Orlan-10" was shot down, which was conducting aerial reconnaissance during a missile attack and was trying to identify the positions of our air defense.
In addition, the occupiers conducted 12 MLRS attacks, in particular, on the infrastructure of settlements in Donetsk and Kherson oblasts.
The threat of enemy air and missile strikes remains on the entire territory of Ukraine. Don't ignore air raid signals, even on holidays.
The enemy does not stop offensive actions in the Lyman and Bakhmut areas and makes attempts to improve the tactical position in the Kupyansk and Avdiivka directions.
No signs of the formation of offensive groups of the enemy were detected in the Volyn, Polissya, Siverskyi and Slobozhanskyi directions.
On the Siverskyi and Slobozhanskyi directions, areas of the settlements of Khodyne, Atynske, Velyka Rybytsia, Zapsillia and Ryasne of the Sumy oblast and Uda, Strilecha, Alisivka, Krasne, Staritsya, Gatyshche, Vovchansk, Ternova and Katerynivka in the Kharkiv oblast were subjected to artillery and mortar shelling.
In the Kupyansk direction, the enemy shelled the areas of the settlements of Lozova Persha, Zapadne, Masyutivka, Tokarivka, Kupyansk and Orlyanske in the Kharkiv oblast and Novoselivske, Stelmakhivka and Andriivka in the Luhansk oblast.
In the Lyman direction, Ploshanka, Makiivka, Nevske, and Dibrova in the Luhansk oblast, as well as Chervonopopivka, Terny, and Torske in the Donetsk oblast came under fire.
In the Bakhmut direction, enemy shelling was recorded in the areas of more than 20 settlements. Among them are Spirne, Soledar, Bakhmutske, Bakhmut, Kostyantynivka, Kurdyumivka, Mayorsk and New York of the Donetsk oblast.
Vesele, Avdiivka, Nevelske, Maryinka, Krasnohorivka, and Novomykhailivka in Donetsk oblast were shelled in the Avdiivka direction.
Vremivka, Velyka Novosilka, Prechystivka, Vuhledar, and Mykilske of the Donetsk oblast came under enemy fire in the Novopavlivsk direction.
In the Zaporizhzhia direction, the enemy fired tanks, mortars and barrel artillery in the areas of more than 15 settlements. Among them are Olhivske, Hulyaipole, Stepove, Charivne and Dorozhnyanka of the Zaporizhzhia oblast.
In the Kherson direction, the civilian infrastructure of the settlements of Antonivka, Tokarivka, Mykolaivka, and Kherson was affected by shelling.
The russian occupying forces strengthened the administrative and police regime for the period of the New Year holidays in some settlements of the temporarily occupied territory. Thus, from December 31, 2022 to January 6, 2023, the city of Henichesk in the Kherson oblast was closed to the public, and residents of the surrounding villages were also prohibited from leaving.
In order to install a system of engineering barriers in the temporarily occupied territories of Donetsk, Luhansk and Kherson oblasts, the occupiers are recruiting civilians from the territory of the russian federation.
Ukrainian aviation struck 6 areas of concentration of the invaders and carried out 1 strike at the positions of the enemy's anti-aircraft missile systems; our units of missile troops and artillery struck 2 areas of concentration of manpower and military equipment, and a control point of the invaders.
Als ausführlicher Nachtrag die Ansprachen zum Jahresende vom ukrainischen Präsidenten und von Russlands Präsident Wladimir Putin (die jeweils offiziell veröffentlichte englische Fassung stelle ich hier als Dokumente der Zeitgeschichte in voller Länge ein).
New Year greetings of President of Ukraine Volodymyr Zelenskyy
Dear Ukrainians!
This year began on February 24. Without prefaces and preludes. Sharply. Early. At 4 o'clock.
It was dark. It was loud. It was hard for many and scary for some. 311 days have passed. It can still be dark, loud, and complicated for us. But we will definitely never be afraid again. And we'll never be ashamed.
It was our year. Year of Ukraine. Year of Ukrainians.
We woke up on February 24. Into another life. Being another people. Another Ukrainians. The first missiles finally destroyed the labyrinth of illusions. We saw who was who. What friends and enemy are capable of, and most importantly, what we are capable of.
On February 24, millions of us made a choice. Not a white flag, but a blue and yellow flag. Not escaping, but meeting. Meeting the enemy. Resisting and fighting.
The explosions on February 24 stunned us. Since then we have not heard everything. And we don't listen to everyone. We were told: you have no other option but to surrender. We say: we have no other option than to win.
On February 24, we began to create our victory. From many bricks – hundreds of other victories.
We have overcome the panic. We did not run away but united. We have overcome doubts, despair, and fear. We believed in ourselves and in our strength. The Armed Forces of Ukraine. Intelligence. National Guard. SBU. Special Operations Forces. Border guards. Territorial defense forces. Air defense forces. The police. The State Emergency Service. All our defense and security forces. I am proud of you all, our warriors!
This year can be called a year of losses for Ukraine, for the whole of Europe, and the whole world. But it's wrong. We shouldn't say that.
We haven't lost anything. It was taken from us. Ukraine did not lose its sons and daughters – they were taken away by murderers. Ukrainians did not lose their homes – they were destroyed by terrorists. We did not lose our lands – they were occupied by invaders. The world did not lose peace – Russia destroyed it.
This year has struck our hearts. We've cried out all the tears. All the prayers have been yelled. 311 days. We have something to say about every minute. But most of the words are superfluous. They are not needed. No explanations or decorations are needed. Silence is needed to hear. Pauses are needed to realize.
The morning of February 24.
Hostomel. Bucha. Irpin. Borodianka. Kharkiv.
Mriya.
Kramatorsk Station. Toy.
Chernihiv.
Mariupol. Drama Theater. The word "Children" written.
Olenivka.
Odesa. Multi-story building. Girl. Three months old.
Vilniansk. Maternity hospital. Baby. Two days old.
Azovstal.
It's impossible to forget. And it's impossible to forgive. But it's possible to win.
We stood on our feet because there was something that kept us going. Our spirit.
Defense of Kyiv.
Kharkiv.
Mykolaiv.
Chornobayivka.
Snake Island.
HIMARS.
Antonivsky Bridge.
"Cotton" pops.
Crimean Bridge.
Neptune.
Cruiser Moskva.
Russian warship.
Izyum, Balakliya and Kupyansk.
Kherson.
And we pray that there will be Kreminna and Svatove, Melitopol, all of Donbas, Crimea.
We fight and will continue to fight. For the sake of the main word: "victory."
It will be for sure. We are approaching it for 311 days.
We gave it a lot of strength. But at the moment, when it seems that you can't go any further, remember that we have already passed with you.
I want to say to all of you: Ukrainians, you are incredible! See what we have done and what we are doing!
How our soldiers have been smashing this "second army of the world" since the first days.
How our people stopped their equipment and infantry columns.
How an old man used his hands to stop a tank.
How a woman knocked down a drone with a jar of tomatoes.
How enemy tanks, armored personnel carriers, helicopters, shells were stolen during the occupation.
How we fundraised for Shahed hunters, naval drones, armored vehicles, ambulance vehicles and Bayraktar drones in several hours.
How we withstood all threats, shelling, cluster bombs, cruise missiles, darkness and cold.
How we supported each other and the state.
Everyone is important in war.
Who holds a weapon, the steering wheel of a car, the helm of a ship or plane, a scalpel, or a pointer.
Everyone who is behind a laptop, who drives a combine harvester, a train.
Who is at a roadblock and a power plant.
Journalists and diplomats, utility workers and rescuers.
All. Who is working. Studying at a university or school. And even those who are just learning to walk.
All this is for their sake. Our children. Our people. Our country.
There are no small matters in a great war. There are no unnecessary ones. Each of us is a fighter. Each of us is a front. Each of us is the basis of the defense.
We fight as one team – the whole country, all our regions. I admire you all. I want to thank every invincible region of Ukraine.
Kharkiv. Mutilated but unconquered. You proved to the enemy that being close territorially does not mean being close in mind. Kharkiv is a Ukrainian city. The hero city.
Invincible Mykolaiv. Heroically withstands all blows. The city on a wave that overcomes all storms.
Sumy city and the region. You were one of the first to feel the full-scale invasion of the invaders. Sumy region became a bone in their throat for them. Ordinary people made Molotov cocktails, burned enemy columns, took the first prisoners. Sumy region is a force.
Dnipro. The support and reliable rear of our front. You received people, you got the lives of wounded soldiers back. Despite constant barrages, Dnipro lives on.
Odesa. Sunny and friendly, now a fortress. World fortress. Which defends us and which defends the world. Feeds it by sending millions of tonnes of salvation by sea every day. Because it is Odesa Mama.
Kherson! You are heroic people! You have been under occupation for more than eight months. No news. No communication. Separated from Ukraine.
Thousands of you took part in actions against the ruscists. You did not know whether we saw it in Ukraine or knew about it. The occupiers lied to you that Ukraine abandoned you and would not fight for you. But you believed and waited despite everything. The face of Kherson is cut by fragments of shells, but the main thing is that we welcome the New Year free and together under blue and yellow flags. And therefore, we will restore everything, rebuild everything. Just like Chernihiv and Zaporizhzhia, and Kramatorsk, and Bakhmut.
Those that became a refuge for millions of Ukrainians: Rivne, Ivano-Frankivsk, Ternopil, Vinnytsia. I thank you! Those who receive and transfer millions of tonnes of aid from Europe and the world: Lviv, Uzhgorod, Chernivtsi, Lutsk. Thank you! Those who accept the evacuation of businesses, enterprises, universities: Khmelnytsky, Zhytomyr, Kropyvnytsky, Poltava, Cherkasy. Thank you!
And those who are waiting for Ukraine. And will wait. Donbas, Luhansk region, Crimea. Thanks to you, our warriors!
And, of course, Kyiv region and the city are our heart, which always beats thanks to you, all our Ukrainians!
We are all one family. One Ukraine.
This is the year when Ukraine changed the world. And the world discovered Ukraine. We were told to surrender. We chose a counterattack! We were told to make concessions and compromises. We are joining the European Union and NATO.
The world heard Ukraine. European Parliament, Bundestag, the UK Parliament, Knesset, the US Congress.
The world felt Ukraine. Ukraine in the media. In the hearts of people. At the top of Google search.
The world saw Ukraine. On the main squares in Toronto, New York, London, Warsaw, Florence, Sydney, and other cities.
Ukrainians surprise. Ukrainians are applauded. Ukrainians inspire.
Is there anything that can scare us? No. Is there anyone who can stop us? No.
Because we are all together.
It is what we are fighting for. One for each other.
The best salute for us is at the warehouses of the occupiers. The best gift is the numbers in the report of the General Staff.
We do not know for sure what the new year 2023 will bring us. But ready for anything.
New achievements? We will be happy. New hits? We will be steadfast. Continuation of the fight? We will fight. And when we win, we will hug.
Dear Ukrainians!
A few minutes remain until the New Year. I want to wish all of us one thing – victory. And that's the main thing. One wish for all Ukrainians.
Let this year be the year of return. The return of our people. Soldiers – to their families. Prisoners – to their homes. Immigrants – to their Ukraine.
Return of our lands. And the temporarily occupied will become forever free.
Return to normal life. To happy moments without curfew. To earthly joys without air alerts.
The return of what has been stolen from us. The childhood of our children, the peaceful old age of our parents.
So that grandchildren come to visit their grandparents during the holidays. To eat watermelons in Kherson. And the cherry in Melitopol.
So that our cities are free. Our friends are faithful.
And so that our main figure and main success appeared in reports near the figure of 100,000 destroyed enemies, thousands of units of destroyed Russian equipment – it is 603,628 square kilometers. The area of independent Ukraine, as it was since 1991. As it will always be.
May the New Year bring all this. We are ready to fight for it. That's why each of us is here. I'm here. We are here. You are here. Everyone is here. We are all Ukraine.
Glory to Ukraine!
Happy New Year!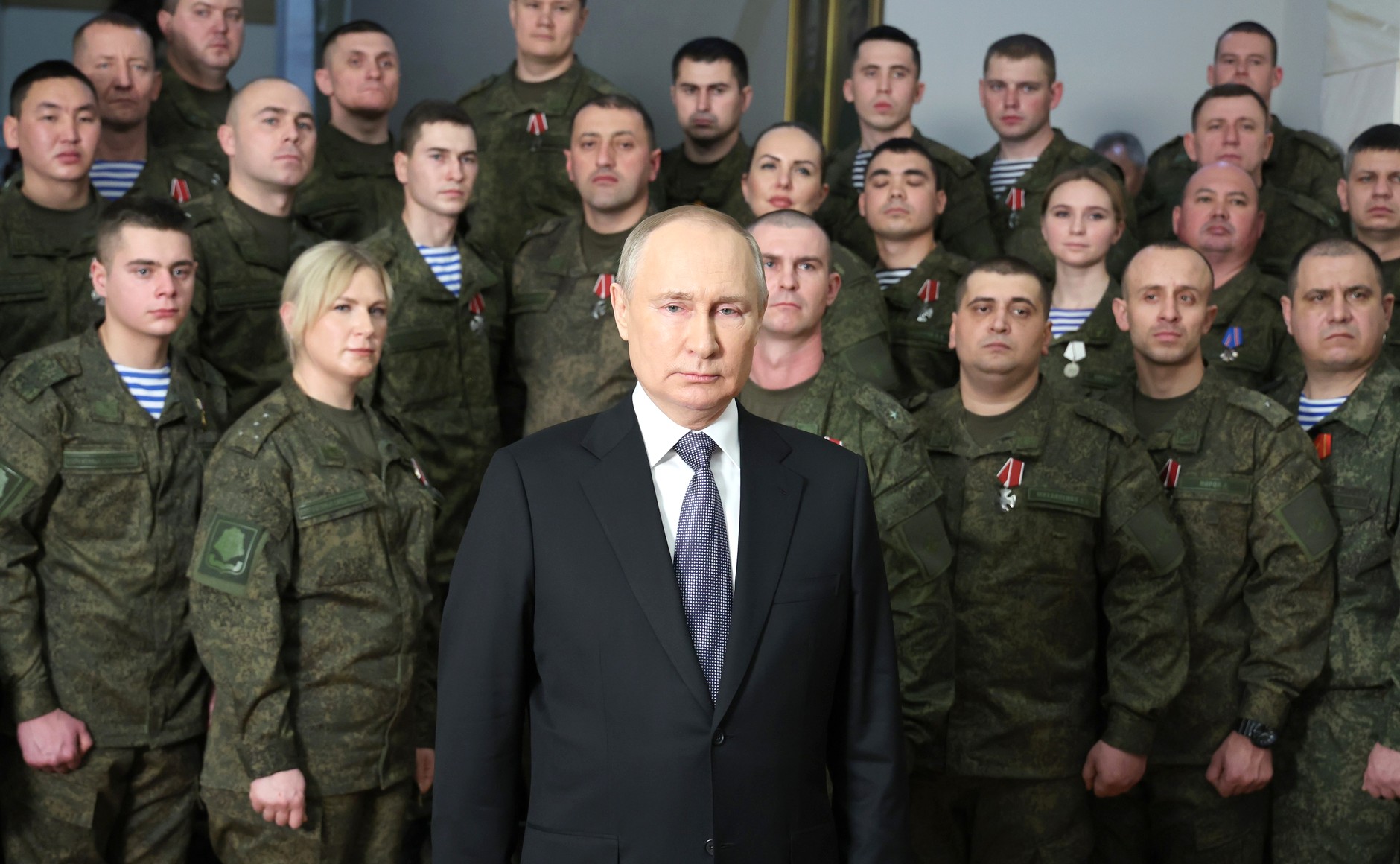 New Year Address to the Nation
Citizens of Russia, friends,
The year 2022 is drawing to a close. It was a year of difficult but necessary decisions, of important steps towards Russia's full sovereignty and a powerful consolidation of our society.
It was a year that put many things in their place, and drew a clear line between courage and heroism, on the one hand, and betrayal and cowardice on the other, showed us that there is nothing stronger than love for our near and dear, loyalty to our friends and comrades-in-arms, and devotion to our Fatherland.
It was a year of truly pivotal, even fateful events. They became the frontier where we lay the foundation for our common future, our true independence.
This is what we are fighting for today, protecting our people in our historical territories in the new regions of the Russian Federation. Together, we are building and creating.
Russia's future is what matters the most. Defending our Motherland is the sacred duty we owe to our ancestors and descendants. The moral and historical truth is on our side.
The outgoing year has brought great and dramatic changes to our country and to the world. It was filled with uncertainty, anxiety and worry.
But our multiethnic nation showed great courage and dignity as it had in every challenging period in Russian history, supported the defenders of our Fatherland, our soldiers and officers, and all participants in the special military operation, in both word and deed.
We have always known that Russia's sovereign, independent and secure future depends only on us, on our strength and determination, and today, we have become convinced of it once again.
For years, Western elites hypocritically assured us of their peaceful intentions, including to help resolve the serious conflict in Donbass. But in fact, they encouraged the neo-Nazis in every possible way, who continued to take military and overtly terrorist action against peaceful civilians in the people's republics of Donbass.
The West lied to us about peace while preparing for aggression, and today, they no longer hesitate to openly admit it and to cynically use Ukraine and its people as a means to weaken and divide Russia. We have never allowed anyone to do this and we will not allow it now.
Russian servicemen, militiamen and volunteers are now fighting for their homeland, for truth and justice, for reliable guarantees of peace and Russia's security. They are all our heroes and they are shouldering the heaviest burden right now.
From the bottom of my heart, I wish a very happy New Year to every participant in the special military operation, to those who are here next to me now, and who are on the frontline, those getting ready for action at training centres, those who are in hospitals or already back home, having fulfilled their duty, to all those now on combat duty in strategic units, and all personnel of the Russian Armed Forces.
Comrades,
thank you for your valiant service. Our entire vast country is proud of your fortitude, endurance and courage. Millions of people are with you in their hearts and souls, and will be raising a toast to you at their New Year's table.
Many thanks to everyone who provides ancillary support for military operations: drivers and railway workers who deliver supplies to the front, doctors, paramedics, and nurses who are fighting for soldiers' lives and nursing wounded civilians. I thank the workers and engineers at our military and other plants who are working today with great dedication, builders who are erecting civilian facilities and defensive fortifications, and helping to restore the destroyed cities and villages in Donbass and Novorossiya.
Friends,
Russia has been living under sanctions since the events in Crimea in 2014, but this year, a full-blown sanctions war has been unleashed against us. Those who started it expected our industry, finances and transport to collapse and never recover.
This did not happen, because together we created a reliable margin of safety. We have been taking steps and measures towards strengthening our sovereignty in a vitally important field, in the economy. Our struggle for our country, for our interests and for our future undoubtedly serves as an inspiring example for other states in their quest for a just multipolar world order.
I consider it very important that in the outgoing year, such qualities as mercy, solidarity and proactive empathy have become especially important in Russia. More and more Russians feel the need to help others. They rally together and take initiative without any formal instructions.
I want to thank you for being so considerate, responsible and kind, for your active involvement in the common cause regardless of age or income. You arrange warehouses and transport to deliver parcels to our fighters in the combat zone, to the residents of affected cities and towns, and help organise holidays for children from the new constituent entities of the Federation.
My friends, you are providing great support to the families of the fighters who perished, who gave their lives defending the lives of others.
I know how difficult it is for their wives, sons and daughters, and for their parents, who raised real heroes; I understand how they feel now, on New Year's Eve. We will make every effort to help the families of our fallen comrades raise their children, give them a good education, and get a profession.
With all my heart, I share your pain and ask you to accept my sincere words of support.
Friends,
Our country has always celebrated the start of the New Year, even during very difficult times. It has always been everyone's favourite holiday, and has a magical power to reveal the best in people, to heighten the importance of traditional family values, the energy of kindness, generosity and trust.
As we see the New Year in, everyone strives to give joy to their loved ones, to show them attention and warmth, to give them presents they have been dreaming of, to see the delight in children's eyes and parents' touching gratitude for our attention. The older generation knows how to appreciate such moments of happiness.
Friends, now is the best moment to leave all personal grievances and misunderstandings in the past, to tell our nearest and dearest how we feel, how much we love them, how important it is to take care of each other – always, at any time.
Let these heartfelt words and noble feelings give each of us immense strength and confidence that together, we will overcome all the challenges and keep our country great and independent.
We will only move forward, to fight for our families and for Russia, for the future of our only, beloved Motherland.
Happy New Year, friends! Happy 2023!
(Foto: Kreml)