Nachricht vom Taliban-Führer – für Friedensgespräche, gegen ISIS in Afghanistan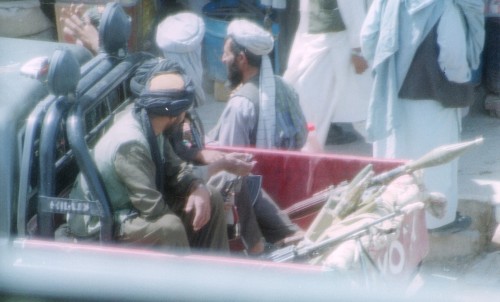 Der Führer der Taliban in Afghanistan, Mullah Omar, hat sich am (heutigen) Mittwoch mit der traditionellen öffentlichen Nachricht zum Ende des Fastenmonats Ramadan gemeldet. Fürs Archiv unten wesentliche Teile des Originaltextes der englischen Fassung zum Nachlesen – in der Bewertung gibt es da offensichtlich auch unter Afghanistan-Kennern unterschiedliche Schwerpunkte.
Die BBC wertet die Aussagen als Unterstützung für politische Gespräche zwischen Taliban und der afghanischen Regierung:
The leader of the Afghan Taliban, Mullah Mohammed Omar, has backed peace talks with the Afghan government, in a statement released to the media.
The statement by Mullah Omar ends speculation that the reclusive Taliban leader had not authorised the latest talks.(…)
The statement said political means to achieve "sacred goals" could be pursued "concurrently with armed jihad", under Islamic principles.
Zugleich ruft Mullah Omar zur Einheit der Kämpfer gegen die Besatzung durch die Ungläubigen auf, was als Absage an eine Ausbreitung der islamistischen ISIS-Milizen in Afghanistan verstanden wird.
Aus dem Text auf der Taliban-Webseite:
I would like, by seizing this occasion, to elucidate some issues about the previous and present on-going Jihadi struggle of the Islamic Emirate of Afghanistan.
1. The invasion of Afghanistan by the occupying alliance headed by America was in reality an explicit brutal aggression, contradicting all humane principles, on an integral part of the Muslim Umma and subsequently, the initiation of Holy Jihad against this aggression became a binding individual obligation upon us. (…)
It was according to this religious obligation that more than fifteen hundred religious scholars of our country issued the decree of Holy Jihad to the Islamic Emirate which was subsequently approved by the righteous scholars around the world. In the light of this genuine religious decree, Jihad is as obligatory today as it was in the beginning of foreign occupation because our Muslim homeland Afghanistan is still under occupation and both its land and air space are controlled by the invaders. The only minor difference is that after suffering heavy casualties and financial losses, the foreign occupying forces have reduced their numbers and have confined themselves to heavily fortified bases, filling this void with some notorious figures of our society, mercenary forces trained by foreign intelligence agencies and some naive youngsters in the disguise of Afghan security forces who are financially, logistically and even directly supported by the very occupying forces when pressured by Mujahidin. It is therefore still obligatory upon us to continue our sacred Jihad to liberate our beloved homeland and restore an Islamic system.
It is true that large areas of the country are liberated by the Mujahidin but our Jihadi struggle will continue until the infidel occupation of our country has ended and a pure Islamic system is implemented.
2. Concurrently with armed Jihad, political endeavors and peaceful pathways for achieving these sacred goals is a legitimate Islamic principle and an integral part of Prophetic politics. As our holy leader, the beloved Prophet (peace and blessings be upon him), was actively engaged in fighting the infidels in the fields of 'Badr' and 'Khyber', he simultaneously participated in agreements beneficial for Muslims, held meetings with envoys of infidels, sent messages and delegations to them and on various occasions even undertook the policy of face to face talks with warring infidel parties. If we look into our religious regulations, we can find that meetings and even peaceful interactions with the enemies is not prohibited but what is unlawful is to deviate from the lofty ideals of Islam and to violate religious decrees. Therefore the objective behind our political endeavors as well as contacts and interactions with countries of the world and our own Afghans is to bring an end to the occupation and to establish an independent Islamic system in our country. It is our legitimate right to utilize all legal pathways because being an organized and liable setup, we are responsible to our masses, we are an integral part of human society and rely upon one another. All Mujahidin and countrymen should be confident that in this process, I will unwaveringly defend our legal rights and viewpoint everywhere. We have established a 'Political Office' for political affairs, entrusted with the responsibility of monitoring and conducting all political activities.
3. We insist upon the unity of Jihadi front in Afghanistan because firstly, it is the command of Allah Almighty and secondly, the fruits of successful Jihad against the former Soviet Union were lost as an inevitable consequence of the multiplicity of factions. (…)
Since maintaining the unity of Jihadi front in our country is a religious obligation, we have therefore directed all our Mujahidin to preserve their unity and forcefully prevent all those elements who attempt to create differences, damage this Jihadi front or try to disperse the Mujahidin.
4. (…)
The formation of Islamic Emirate comprises of virtuous and erudite people from all areas and nations of our country, learning a lot from the experiences of previous 36 years especially from the responsibilities borne over the past twenty years hence no one should fear about what will happen if the Islamic Emirate comes to power. I assure you that the upcoming changes will in no way resemble the situation following the collapse of the communist regime when everything turned upside down. There are no such disagreements inside the Jihadi ranks as were in the past. This time every legal development around the country will be preserved, national assets and the achievements of private sector will be maintained, the dignity of all individuals and communities of the country will be honored, an accountable, transparent, professional and inclusive Afghan administration will be setup to meet both the worldly and religious needs of the Afghan masses. We have always tried, in light of Islamic principles and national interests, to maintain cordial and reciprocal relations with all neighboring, regional and world countries so that Afghanistan is secured both from external malice as well as internal differences.
5. Some circles accuse Mujahidin of being agents of Pakistan and Iran. This is an utterly unjust verdict because neither our past history nor the present prevailing circumstances attest to this statement and the forthcoming history will also be a witness against these false accusations, Insha-Allah (God-willing).
Nevertheless, it is a fact that we have sought cordial relations not only with Pakistan and Iran but also all other neighboring countries. Just like towards the people of Pakistan and Iran, we have been the well-wishers of all masses of all neighboring, regional and world countries and we are determined to pursue this wise policy.
We call upon all people with intellect not to be deceived by the baseless propaganda of the enemy intelligence. Do not attribute you're extraordinary achievements to others. The vast areas spreading from Badakhshan to Kandahar, from Faryab to Paktia and from Herat to Nangarhar, which almost covers the entire country cannot be liberated with foreign support. If foreign aid were so effective then it would have treated the wounds of the Kabul administration which enjoys the unconstrained support of fifty countries. They freely get weapons and manpower from abroad, even their leaders are brought up and trained by the foreigners. But none of these provisions stabilized them rather they are losing ground on a daily basis. Therefore if we were not supported by Allah Almighty as well as our pious masses and Jihadi spirit, how could it be possible for us to have sustained this lopsided war for fourteen years against major world military powers with the insignificant and secret support of either one or two neighboring countries? Without a doubt, no sane mind would ever accept this nonsense.
Therefore our Muslim brothers, near and far, should not be victimized by the enemy propaganda because the enemy is not only devious but also shrewd and well-equipped, able to convey and spread rumors and propaganda against Muslims and Islamic movements to the world masses. Hence all Muslims should remain vigilant and discerning equipped with faith and spiritual perspicacity.
6. Some people, without having any sound proof, think that the Islamic Emirate is against all new developments, modern sciences and resources. This despite the overall expenditure on schools and higher educational institutions being higher than the traditional religious madrassas during the reign of the Islamic Emirate. Twenty percent of the budget was allocated for education and training. Contemporary studies are recommended by our religious scholars as they are obligatory according to Islamic teachings. Allah Almighty says in His Holy Book: (…)
According to the above blessed verse which stresses upon every possible preparation against the enemy and since Jihad is an indispensable obligation for the Muslims today thus modern resources to combat the enemy can neither be had nor utilized without the prior knowledge of modern sciences and new experiences. Similarly treatment of injured Mujahidin and health-care of Muslim masses, freeing ourselves from enemy dependence in technical, industrial, agricultural and various other walks of life as well as properly serving the Muslims and self-sufficiency of Islamic society needs our excellence in modern knowledge. It is a well-established rule of Islamic jurisprudence that the requisite of an obligation is obligatory.
Therefore the Islamic Emirate realizes the value and importance of modern sciences and sources in the light of our Holy Sharia law. The proof is that Mujahidin are facilitating both religious and modern studies for the young generation of our beloved homeland in all the areas under their control.
7. I would like to remind all the Mujahidin that if they abide by two things then eventual victory will be theirs. First, they should aim for Allah's pleasure in all their deeds. They should endure their allegiance with their creed, country, the Islamic Emirate and their leaders as guided by our Holy Book:
(…)
So deal with your people gently, with love and good manners. Treat their elders as your own parents and their youngsters as your own brothers and children. The protection of lives and properties of ordinary people is your Islamic and human responsibility. Particularly in your military planning, take all possible measures to avoid civilian losses and casualties. If you glance over history, you will vividly see that the one who has betrayed the sacred religion of Allah or has looked down upon this pious Mujahid nation or ignored good ethics has failed at succeeding here.(…)
8. O Mujahidin! As Allah Almighty has flung open the doors of victories to you, try your best to invite and guide the opponents to the right path and provide them with secured and honorable living conditions. Instead of killing them, it is better to reform (guide) them as our community will inevitably suffer due to their widows and orphans. The people who control their anger and pardon are held in high esteem by Allah Almighty as He says:
(…)
9. Muslims of the whole world and specially the pious masses of Afghanistan are requested to increase their physical and financial support to the Mujahidin amidst the current triumphant process as you constantly extended it over the past fourteen years. You should remember that Jihad is an individual obligation upon every single Muslim. If one cannot participate in the Jihadi fronts physically, he can discharge his duty by extending financial or political or cultural support to the Mujahidin. (…)
10. To end, I request all the leaders and masses of the Muslim world to maintain unity and fraternity among themselves and not allow internal differences to weaken their ranks. The policy of tolerance, patience, acumen and strict abidance by Islamic Sharia should be adopted. I would like to remind all the well-off sympathizing brothers to extend their complete support to the bereaved families of the martyrs, prisoners, disabled, poor and orphans of frontline Mujahidin during these happy days of Eid-ul-Fitr. They should not be left alone and must be encouraged because it is the source of success and prosperity in this world as well the world hereafter.
(Archivbild: Taliban in Herat 2001 – Public Domain via Wikimedia Commons)